The 2020 ISSO Senior Open champion (COVID-19) was soundly defeated as the event came roaring back with a full complement of competitors for 2021!
Hosted for the third time by the Weger Family and friends at Willawalla Creek Shooting Center, Saint Jo, TX, shooters from the four corners of the U.S.A. and Canada were treated once again to unmatched generosity and hospitality, bringing the event roaring back! Daily home style meals prepared by Nita Weger and a bevy of competitor's wives, contributed to the 'Willawalla Waddle" and worth every calorie. Saturday night saw a pig-in-the-ground dinner, karaoke and dancing under the Texas stars, replete with snake-skin boots and cowboy hats!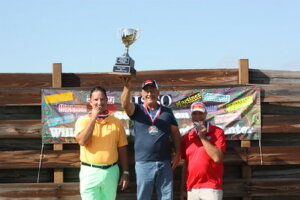 Originated in 2007, the "Senior Open" is an annual USA Shooting sanctioned trap event designed specifically for Senior Category trap shooters (ages 50+), replicating a World Cup experience allowing renewals of decade's old friendships while new friendships are made. This year marked Senior Open XIII as it moves around the country to various venues, promoting the USA Shooting motto "Sport for Life". Modeled after the International Shooting Sports Federation World Cup clay target trap format, shooters fire 75 targets on Saturday and 50 targets on Sunday with Finals. The Euro Class System classifies shooters based on their performances on Saturday's score, being particularly important since non-USA Shooting members from other countries participate in the event, who hold no USAS classification.
Challenging wind conditions prevailed over all three both; however flawless equipment and range conditions made for a superb event for the maximum capacity turnout of shooters. Willawalla proved to be a level playing field, giving no one home field advantage as the competition unfolded. White Flyer provided complementary Orange Crusher flash targets and thanks to Gene Sears Supply Company, El Reno OK, sufficient ammunition was available for the event.
Friday's event was a blind-draw 2-person team; 75 targets per shooter. Susan Nattrass, Vashon, WA and Maxey Brantley, New Braunfels, TX took High Team with 125/150 with Dick Lichtenberg, Bellevue, WA and John Wolfington, Wilmington, DE, were 2nd with 122/150, while Steve Wirth, Ballwin, MO and Gino Bortone, Valley View, TX were 3rd with 118/125.
Four-time Senior Open Champion David Senter, St. Helens OR, jumped into the lead on Saturday with 67/75 targets, followed by Steve Loschen, Wilcox NE at 63/75 and David Parker, Costa Mesa, CA with 62/75 on Day 1.
Day 2 saw Loschen and Parker pull ahead, tied with 105/125 each, followed closely by Senter, Paul Mullin, Laurel, MD and Scott Miller, Las Vegas, NV. This set the stage for the Top Six Finals adding Gino Bortone, into the mix.
The full ISSF 50 target Final saw Bortone, Senter and Mullens eliminated in turn, with David Parker taking the bronze medal with 34/50 while Loschen and Miller continued for the gold and silver. Loschen ended with a two-target advantage, breaking 42/50 to Miller's 40/50.
B and C Class winners were determined using a modified Finals process with William Hofmann, Morrison, CO and Kent McCurley, Phoenix, AZ, winning respectively. High Intermediate Senior was David Parker; High Veteran was Paul Mullen; High Lady was Susan Nattrass and High Visitor was Jonathan Fenton, Canada.
There was one additional very special event of note on Sunday when Brian Burrows, Olympic Mixed Trap Team Bronze medalist, made a surprise presentation and awarded the Order of Ikkos to Dwayne Weger for his contribution to Brian's success as a long-time coach and USA Shooting Olympic Team Leader. The Order of Ikkos, created by the US Olympic Committee, pays homage to the first ever Olympic coach dating back to Ancient Greece. The wind was blamed for the watery eyes while thunderous applause burst from the assembled participants and spouses.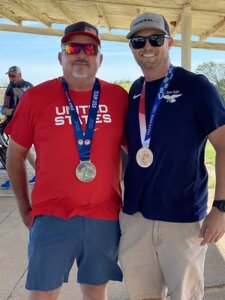 The Senior Open XIV is scheduled for the Palmyra Sportsman Association, Annville, PA. the 2022 dates will be announced when available and listed on the USAS website.